Original Article

Valentina Burgassi

Urban Transp Constr 2018

,

0(0);

doi: 10.18686/utc.v0.65

14

Views,

9

PDF Downloads
Original Article

jun Liu

Urban Transp Constr 2018

,

3(4);

doi: 10.18686/utc.v4.64

71

Views,

10

PDF Downloads
Original Article

Lina Wang

Urban Transp Constr

,

3(1);

doi: 10.18686/utc.v4.63

58

Views,

5

PDF Downloads
Original Article

Liang li

Urban Transp Constr 2018

,

3(3);

doi: 10.18686/utc.v4.62

62

Views,

12

PDF Downloads
Original Article

man-yin ZHANG

Urban Transp Constr

,

3(2);

doi: 10.18686/utc.v4.61

56

Views,

6

PDF Downloads
Read more
Copyright Notice
Authors submitting to USP journals agree to publish their manuscript under the Creative Commons Attribution-NonCommercial 4.0 International License (CC BY-NC 4.0) where authors agree to allow third parties to share their work (copy, distribute, transmit) and to adapt it, under the condition that the authors are given credit, and that in the event of reuse or distribution, the terms of this license are made clear
Authors retain copyright of their work, with first publication rights (online and print) granted to Universe Scientific Publishing or the owner of the journal in question.
Privacy Statement
The names and email addresses entered in this journal site will be used exclusively for the stated purposes of this journal and will not be made available for any other purpose or to any other party.
Online Submissions
Focus and Scope
Urban Transportation & Construction is a fully peer-reviewed international open-access journal, which contains research papers, review articles and case studies associated with various forms of public transportation, urban architecture, urban planning and related policy issues. The journal aims at establishing a bridge between theory and practice in the related fields, and promote rapid communication and exchange among scholars, architects, engineers and administrators.
The article categories within the journal include (but are not limited to) the following fields:
Transportation Engineering/Planning

Air Transportation

Marine and Water Transportation

Intelligent Transportation Systems (ITS)

Transport modeling and simulation

Transport Safety and Security

Logistics

Urban Planning and Development

Urban Management, Economics and Policy

Urban Infrastructure

Construction & Energy

Architectural and Design Research

Landscape Architecture

Built Environment

Disaster Management

Information Science
Peer Review Process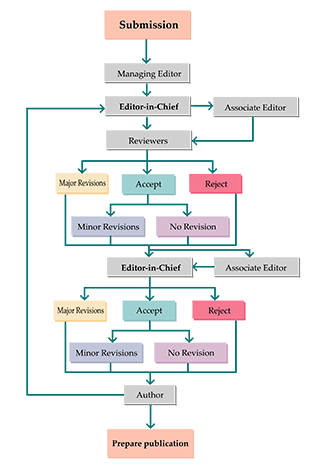 All manuscripts submitted to USP journals undergo a rigorous peer review process, in which most of our peer reviews are single blind (unless stated otherwise).
All submitted manuscript are firstly handled by our managing editor, who will check the manuscript for plagiarism, in which rejection of the manuscript can take place at this stage by the managing editor if plagiarism occurs in the manuscript.
After the plagiarism check is completed and results are deemed satisfactory, the managing editor will pass the manuscript to the Editor-in-Chief who will undertake the peer review process, or at times pass the task to one of the Associate Editor.
A minimum of 2 reviewers will be selected from the pool of reviewers available according to their expertise and suitability to the subject matter of the manuscript. Reviewers will have to give their comments and recommendations (Accept, Major Revisions, Reject) to the Editor-in-Chief or Associate Editor for them to make a final decision on the paper, and their comments will help the authors improve their papers.
Upon recommendations by the reviewers, the Editor-in-Chief or the Associate Editor can make a final decision on the paper and inform the author on their decision, adding comments to the Authors to make improvements in their research or paper.
Typically there are 3 main decisions in the peer review process – Accept, Major Revisions or Reject. If the Editor-in-Chief accepts the paper, it could be split into Minor revisions (author to make minor amendments to the paper) or No revisions (no amendments required by author), after which the paper can be sent to the Editing stage.
If the decision is a Major Revision, the authors are required to make the changes as suggested in the comments accordingly and the paper will be resubmitted for a second (or third) round of review. If the decision is to Reject the manuscript, the author will be notified and the rejected manuscript will be archived and the peer review process ends.
An accepted paper will be sent for Copy Editing, Layout Editing and Proofreading before publication of the paper. Correspondence between the authors and USP will be required here in order to improve the language and/or look of the manuscript. After the Editing stage is completed, authors are required to check the PDF file of the final version before the article is published. USP registers DOI for the manuscript before publishing it on our site, in which the article is immediately accessible to the public.
Open Access Policy
Urban Transportation & Construction provides immediate Gold Open Access to its content as it believes that making research freely available to the public helps promote the research results and in turn benefits the scholarly community.
Higher Visibility, Availability and Citations – free and unlimited accessibility of the publication over the internet without any restrictions increases citation of the article
Ease of search – publications are easily searchable in search engines and indexing databases
Rapid Publication – accepted papers are immediately published online
Conflict-of-Interest
Conflict of interest can be either financial or non-financial. Authors submitting to USP journals are required to declare if they have any conflict of interest which may result in the data written in their article to be influenced by any personal or financial relationship with other people or organizations.
Financial Conflict of Interest include (but not limited to):
Receiving reimbursements, fees, funding, or salary from an organization that may in any way gain or lose financially from the publication of the article, either now or in the future.
Holding stocks or shares in an organization that may in any way gain or lose financially from the publication of the article, either now or in the future.
Holding, or currently applying for, patents relating to the content of the manuscript.
Receiving reimbursements, fees, funding, or salary from an organization that holds or has applied for patents relating to the content of the manuscript.
Non-Financial Conflict of Interest include (but not limited to):
political
personal
religious
ideological
academic
intellectual competing interests
Authors are required to declare both financial and/or non-financial conflict of interest in order to prevent any embarrassment or accusations of wrong-doing if they were to be made public after the publication of their manuscript. If there are no conflict of interest present, authors are required to include a statement declaring that there are no conflict of interest.
Reviewers are required to declare conflict of interest that might be relevant to them in the contents of the manuscript (e.g reviewer might be working in the organization that funds the research in the manuscript), and to inform the Editor in Chief that they might not be suitable for reviewing the paper.
Editorial Board is expected to (1) present unbiased, independent, and professional advice to the editor-in-chief, (2) maintain confidentiality about editorial board activities and discussion, and (3) sign a disclosure form to affirm that he or she has read, understands, and agrees to abide by the conflict of interest policy and to disclose any known conflicts or to state that no conflicts exist at the time. Conflicts of interest must be disclosed to the editor-in-chief who will determine how to manage, reduce, or eliminate the conflict.
Statement of Human and Animal Rights
All papers submitted to USP should declare agreement with the following 'statement of human and animal rights'. Any paper lacking it will not be considered for publication. Papers describing procedures involving humans or animals must include an explicit and easily identifiable statement pointing out that the procedures followed were in accordance with the ethical standards of the responsible committee on human experimentation (institutional and national) and with the Helsinki Declaration of 1975, as revised in 2000 and 2008. If any doubt exists as to whether the research was conducted in accordance with the Helsinki Declaration, the authors must explain the rationale for their approach, and then demonstrate that the institutional ethical committee explicitly approved the doubtful aspects of the study.
When reporting experiments on animals, authors should be asked to indicate whether the institutional and national guide for the care and use of laboratory animals was followed.
Statement of Informed Consent
All papers submitted to our Journal should declare agreement with the following 'statement of informed consent'. Any paper lacking it will not be considered for publication. When informed consent has been obtained, it should be indicated in the published article.
Patients have a right to privacy that should not be infringed without informed consent. All information which could contribute to identify patients, including patients' names, initials, or hospital numbers, should not be published in written descriptions, photographs, etc., unless the information is essential for scientific purposes and the patient (or parent or guardian) gives explicit written informed consent for publication. For this purpose the manuscript should be shown to the patient before publication and specific and explicit informed consent should be obtained. Furthermore, individuals who provide writing assistance should be identified by the authors, and they must disclose the funding source for this assistance.
Identifying details should be omitted if they are not essential. However, since complete anonymity is difficult to achieve, informed consent should be obtained from each patient involved, if there is any doubt. If identifying characteristics are altered to protect anonymity, such as in genetic pedigrees, authors should provide assurance that alterations do not distort scientific meaning, and editors will note that.
Nonessential identifying details should be omitted. Informed consent should be obtained if there is any doubt that anonymity can be maintained. For example, masking the eye region in photographs of patients is inadequate protection of anonymity. If identifying characteristics are de-identified, authors should provide assurance that alterations do not distort scientific meaning, and editors will note that.
Plagiarism
USP does not approve any form of plagiarism used in submitted manuscript. All manuscripts submitted to USP journals will be checked for plagiarism by our managing editor before being passed to the Editor-in-Chief. Any manuscripts found to be in violation of plagiarism will be rejected by our managing editor.
Authorship
List those that have made significant contribution to the reported study as co-authors, and for others who have participated in certain aspects to be listed or acknowledged as contributors in their study. The corresponding author has to ensure that all co-authors have seen and approved the final version of the paper, and agree to its submission for publication.
Article Processing Charge (APC)
Like most other gold open-access journals, USP journals maintains our high quality of service through an 'author-pay' model. The scientific community and the general public have, for free, unlimited and immediate access to all content published in our journals as soon as it is published on the Internet. As such, manuscripts that are accepted for publication following peer review may incur a article processing charge (APC). Payment of this charge allows Universe Scientific Publishing to offset peer review management, journal production and online hosting and archiving. In addition, overall publication charges also will be used to provide fee waivers for authors from lesser developed countries (see below).
Universe Scientific Publishing is committed to keeping its open access publication charges at a minimum level. There are no hidden costs at our journals. There is no additional charge for colour figures. Published articles appear electronically and are freely available from our website. Authors may also use their published articles for any non-commercial use on their personal or non-commercial institution's website.
The exact value of article processing charges for each journal is given in the table below. The APC covers editorial services and production of an article. Upon acceptance for publication a processing fee will be payable. Owing to fluctuations in foreign exchange rates fees may occasionally be subject to change without notice.
| USP Journals | Article Processing Charge |
| --- | --- |
| Urban Transportation & Construction | US$ 800 |
APC Payment
Payments for APC of this journal can be made through our online PayPal payment gateway. Enter the article no. into the below textbox and select "Pay Now" to proceed with payment.
*Article No. is mandatory for payment and it can be found on the acceptance letter issued by the Editorial Office. Payment without indicating Article No. will result in processing problem and delay in article processing. Please note that payments will be processed in USD. You can make payment through Masters, Visa or UnionPay card.
Indexing
Archiving and Indexing Road Map
Urban Transportation & Construction (UTC) aims to be indexed by world-recognized databases, for example, PubMed, Scopus and Science Citation Index (SCI). UTC has been indexed by several world class abstracting/indexing databases:
Announcements
Research News: Smart transport can change people's lives – but austerity is suppressing new transit tech
Even 15 years ago, catching public transport was a very different experience than it is today. You'd have been anxiously peering down your local road, waiting for a bus that never seemed to arrive on time, clutching the exact change for your fare in hand. Today, lots of people can relax and have a more comfortable journey, knowing exactly when the bus will arrive and having the choice to pay by smart card, contactless card or mobile ticket.
This positive change in everyday travel was made possible by developing new technologies – in this case, real-time information systems, microchips, wireless scanning and smartphone apps – and testing them in the real world, with the public and private sectors often working together on pilot projects.
Posted: 2018-09-12
Research News: Ride on: Staying upright on Segway's awkward Drift W1 e-Skates
Back in June, Segway-Ninebot announced some e-Skates called the Drift W1. These were no inlines or quads, but made use of Segway's self-balancing know-how to put a single chunky wheel in each skate – effectively putting a hoverboard on each foot. The company brought some to IFA 2018 in Berlin, so naturally we had to try them out.
First up, some specs. Segway says that the Drift W1 e-Skates can get up to 12 km/h (7.5 mph), which is faster than walking and zippy enough to bring on the pain in a tumble. Each e-Skate has 291 x 162 x 121 mm (11.4 x 6.3 x 4.7 in) dimensions and tips the scales at 3.5 kg (7.7 lb), and a pair of motorized skates can manage a 10 degree hill climb. They have bumpers on the sides, are weatherproofed to IP54 standard and sport head- and tail-lights for skating after the sun's gone down.
Posted: 2018-09-12
Research News: Electric Vespa gets smart as Piaggio prepares for production
Since spying an electrified prototype of Piaggio's Vespa scooter in Milan two years ago, we've been keeping an eye out for launch details on this zero emissions version of the iconic two-wheeler. The company has today announced that production will kick off next month, with the Vespa Elettrica to hit the market soon after.
As in the automotive and motorbike worlds, a clear trend is emerging where scooter manufacturers are positioning themselves for an electric future. We've seen all manner of sustainable scooters emerge from startups and established names alike, along with EV scooter-sharing schemes like Gogoro that continue to build their presence in Asia and Europe.
Posted: 2018-09-12